What is zhaga book 18 socket JL-710?
1.WHAT IS A ZHAGA BOOK 18 SOCKET JL-710?
The JL-710 product is a socket developed based on the ZHAGA BOOK18 interface size standard. It has a built-in AC-DC switching power supply, an output 24VDC power supply, and a maximum output power of 5W. It can solve the application scenario of the customer's driver without auxiliary voltage output to the ZHAGA lamp controller, and the cost is much lower than replacing a dimming driver with auxiliary voltage output.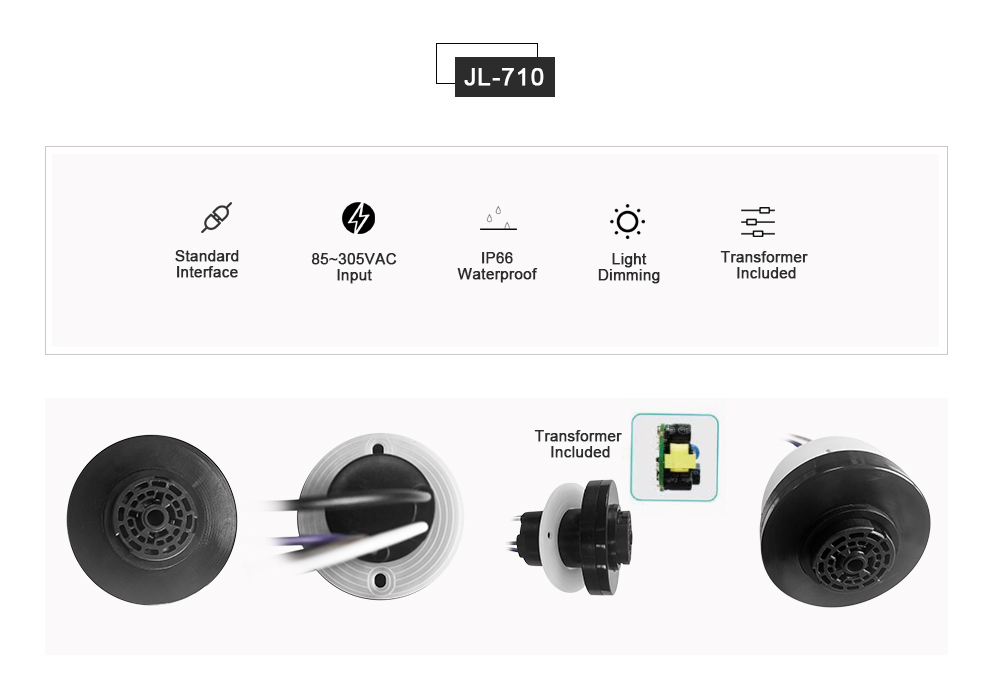 2.FEATURES ABOUT ZHAGA BOOK 18 SOCKET
• Comply with ZHAGA BOOK18 standard

• IP66 (cooperate with our ZHAGA light controller)
• Support top surface installation/side installation/upside-down installation
• Small size, suitable for installation on all kinds of lamps
• The cost is much lower than choosing a dimming driver solution with secondary voltage output
• AC wide voltage input (85~305VAC)
• No-load power consumption ≤0.12W
• Comprehensive protection:overvoltageprotection/undervoltage protection/overcurrent protection/short circuit protection/open circuit protection/over temperature protection
• 0~10V dimming signal switch output
• CLASS II power supply
• Passed RoHs and UL certification
3.STRUCTURE ABOUT ZHAGA BOOK 18 SOCKET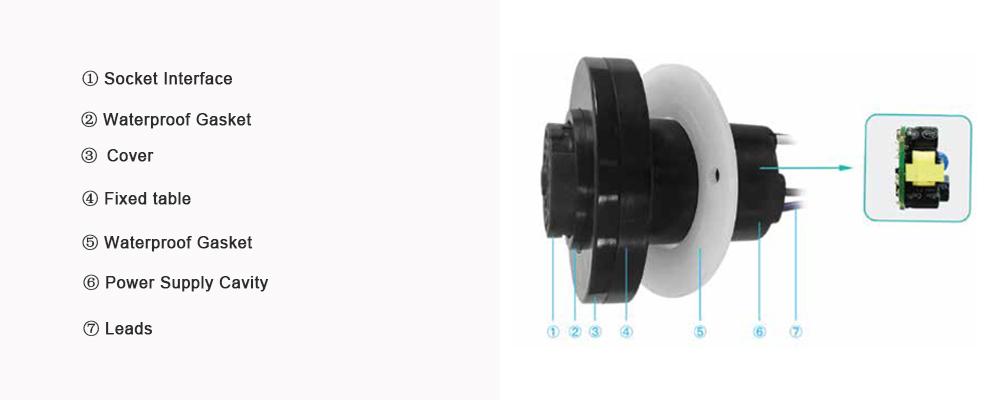 • The default line length is 152.4mm, and the length can be customized

• The stripping length is 10mm by default, the insulation layer is reserved, and the length can be customized
• AC wire gauge (black wire, white wire: 18AWG/AWM1015, including insulation layer 2.9mm
• Signal wire gauge (purple wire, gray wire: 20AWG/AWM1015, 2.6mm including insulation layer
4.HOW TO INSTALL ZHAGA BOOK 18 SOCKET?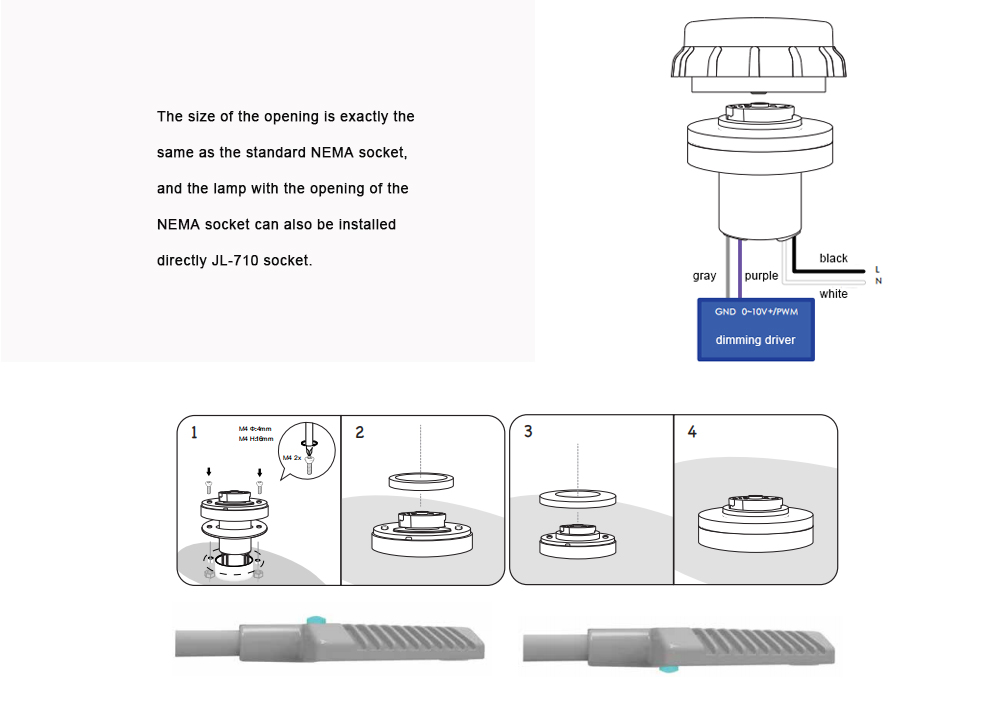 Note:Compared with the NEMA standard light controller, the ZHAGA light controller has a flexible installation position and a smaller volume, which makes the lamp more beautiful.
The installation position also reflects the different functions of the ZHAGA light controller. (Light control, microwave, infrared)
5.BOUT US AND OUR ZHAGA BOOK 18 PRODUCTS.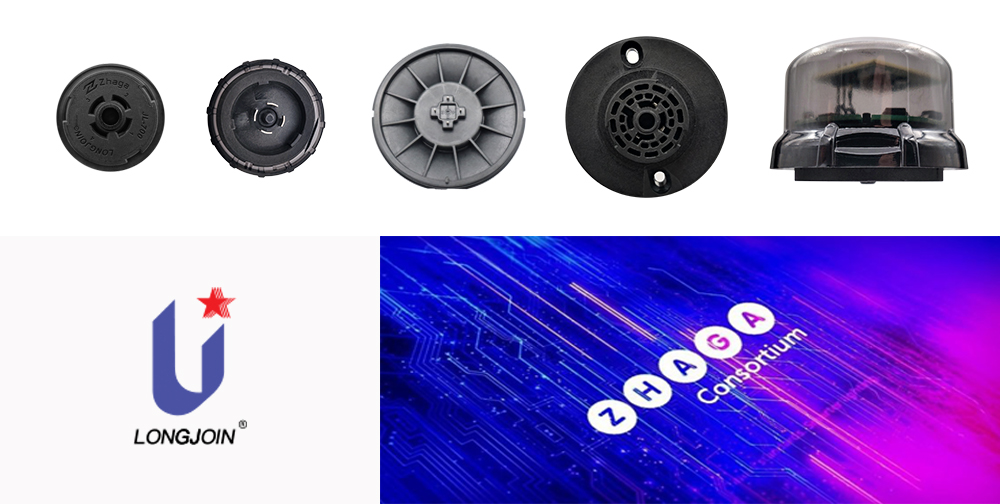 Shanghai LONGJOIN has joined the zhaga association and became one of the registered members of the association.
Our ZHAGA series products are fully compliant with the ZHAGA BOOK 18 standard and have a rich product range. We not only provide zhaga 18 standard finished products, but also related accessories, such as ZHAGA covers and bases.
6.WHAT APPLICATIONS OF ZHAGA SERIES PRODUCT?

Note:This zhaga BOOK 18 light control has the same function as the traditional nema street light controller. It controls the switch of the street light through the brightness of the ambient light and reduces the cost.

Note:This zhaga book 18 product design is mainly applied to the principle of infrared microwave induction. Through infrared induction of moving objects (cars or people in motion), street light switches are controlled, which not only satisfies lighting needs but also saves electricity costs.

Note:In this project case combination, choose the zhaga socket to match the zhaga book 18 series finished light control. According to the needs of the actual project, choose the nature of the controller (light control, smart or infrared control) to choose the right product.
Compared with light control and intelligent control, infrared control is generally suitable for indoors, such as large factories and underground garages. Or it can be combined with intelligent light control to realize the intelligentization of urban lighting.
7.ABOUT OUR ZHAGA BOOK 18 STREET LIGHT CONTROL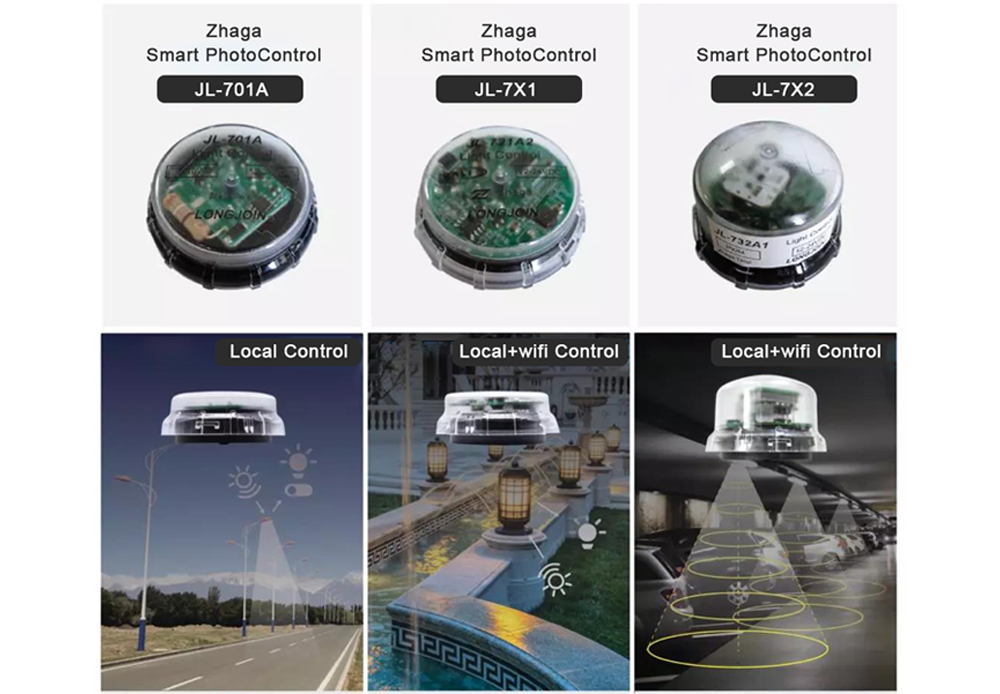 Note:The zhaga book 18 series of street light control products are suitable for roads, lawns, court-yards, parks and other scenes. When the zhaga book 18 series products with microwave induction are used more widely, in addition to outdoor lighting areas, including indoor factory areas, garages, offices, corridors and other areas. . Compared with nema standard controllers, zhaga will be combined with smart homes in the future with its compact size and microwave induction function.
8.ABOUT NEMA VS ZHAGA
The zhaga book 18 standard interface lighting accessories products are dedicated to the upgrading and transformation of traditional lamps and provide a unified standard for the accessories products of the entire lighting industry. zhaga is the industry standard for European lighting accessories products.
At present, the obvious advantages of products with North American NEMA standards are that compared with NEMA, zhaga is smaller in size, low in cost, flexible in installation location, and has a wider range of applications, and is no longer limited to outdoors. The use of street lamps can cover the upgrading and transformation of indoor and outdoor lamps, from the construction of urban roads to the transformation of residential gardens, and gradually enter our daily lives.